This page is under construction. Please check back as additional contributors are added.
In addition to serving as executive members, Wayne Lu, Kurt Gorman, and JG Miller also serve as contributors. Click here to see biographies of the executive board.
Jeff Agrell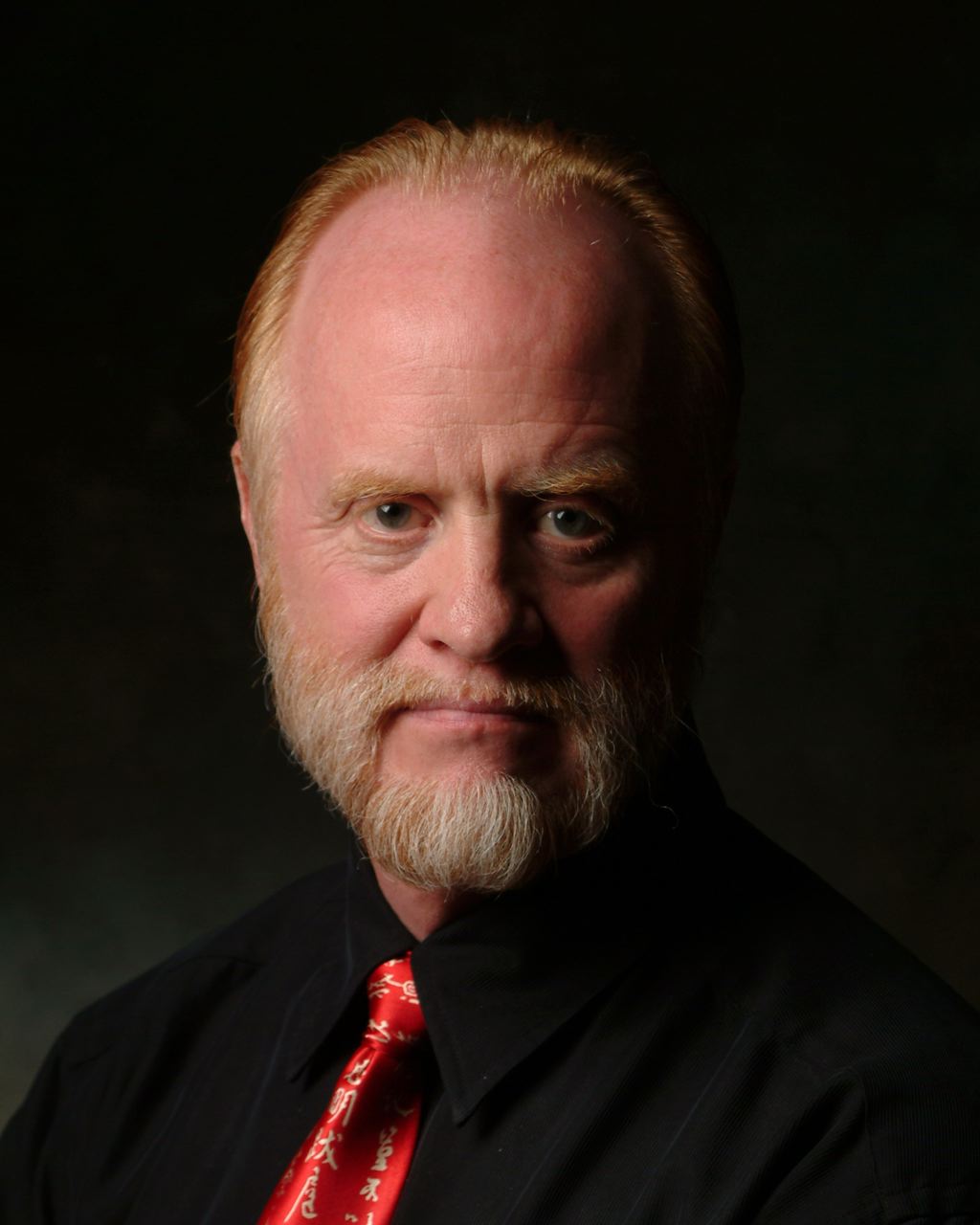 Jeffrey Agrell joined The University of Iowa School of Music faculty as horn professor a decade ago after a first career as Associate Principal Horn with the Lucerne Symphony Orchestra. He has won awards as both a composer and a writer, with some one hundred published articles to his credit and many compositions published, recorded, and performed worldwide on concert stages, at festivals and competitions. He has been very active as a guest artist and clinician, performing and giving lectures, and workshops nationally and internationally. He recently finished a second term as a member of the Advisory Council of the International Horn Society. In the summer he is on the faculty of the prestigious Kendall Betts Horn Camp in New Hampshire. Jeffrey Agrell is the author of "Improvisation Games for Classical Musicians" and "Improv Games for One Player," both published by GIA Publications. His CD "Repercussions" is a unique recording of contemporary classical improvisations. His most recent CD is "Mosaic" (new improvised interpretations of early music) on the MSR Classics label with the Duende trio (horn, cello, piano).
Greg Barnes
Born in Dallas, TX, in 1971, Greg Barnes did not seem destined for a life in music. One of his earliest memories is crying and hiding behind the piano during a preschool Christmas program. He grew up with a head for numbers and science, and he was fascinated with computers. Greg had every intention of becoming a computer programmer when he grew up, and never gave any thought to being a professional musician.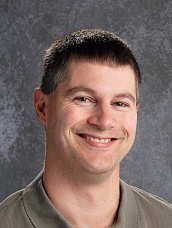 He had, however, been singing his whole life. Despite the disastrous preschool incident, he really enjoyed singing in school. In fourth grade, even though a car had struck him on his way to school that morning and he spent half the day in the hospital, he insisted on singing in the music concert that night. When he was in eighth grade, his choir teacher convinced him to audition for the Region III All-Region Choir, an assemblage of singers from middle schools across several north Dallas suburbs. He was accepted—#27 out of 30—and he realized there was a larger world of choral music beyond his own school. He kept auditioning through high school and was accepted each year, eventually placing second. He never quite made it to All-State, though, which was especially upsetting in his senior year when Robert Shaw was to be the guest conductor of the Brahms Ein deutches Requiem. Ah, well, such is life.
Greg decided to give up music when he went to the University of North Texas to study computer science. He didn't recognize the irony of this decision for a few years—UNT has had a highly ranked College of Music for many years, while its computer science department is far less notable. A chance encounter altered his path: he met a woman at the music booth in the union building, who convinced him that one little credit in choir wouldn't really affect his schedule at all. That one little credit led him to sing with Dr. Steven Demorest, and choir soon became more important to him than computer science. He changed majors in 1991, deciding to pursue music education because, as he puts it, "I wanted to study music, but I didn't want to be just a performer, or a theorist, or a historian. I thought music education would give me all of those things." It did, and thankfully he also learned to be a good teacher. He received his Bachelor of Music in music education in 1996.
While singing in the Concert Choir, Greg also met his future wife, Anne. It would take three years for them to start dating, but by their third week they both realized they would spend the rest of their lives together. They were married in 1994, and decided that Texas was not where they wished to remain. Anne had grown up in central Wisconsin and was anxious to move back to the Midwest. When Greg graduated, they moved to Eau Claire, WI, where he became a part-time music teacher and Anne returned to college to complete her degree. Greg joined the local barbershop chorus and became its director. During that time, he began to arrange and compose short pieces for the chorus and quartets.
Once Anne graduated, Greg was ready to continue his own training. They relocated to Apple Valley, MN, a southern suburb of Minneapolis and St. Paul, so he could pursue a master's degree in choral conducting at the University of Minnesota-Twin Cities. He studied with Dr. Thomas Lancaster and Kathy Saltzman Romey, serving as teaching assistant for three different choirs in his two years. He also worked as the choir director at Minnehaha United Methodist Church, where he experimented with additional compositions. He received his degree in 2002 and found employment as a middle school choir teacher in Elk River, MN. Their son, Samuel, was born later that year.
In 2004, Greg became a teacher in Apple Valley, shortening his commute by two hours each day. He worked as a middle school choir teacher and general music teacher, traveling between two schools. That part-time position evolved into a full-time job at Valley Middle School, where he taught choir for the next three years. He also became the Chancel Choir director at Macalester Plymouth United Church in St. Paul, where he occasionally forces new compositions on the choir. In 2008, he became the music teacher at Southview Elementary, which was attached to Valley Middle School. He happily continues to teach over 600 K-5 students every week.
Greg still enjoys computers, and science, and Star Trek and The Simpsons. He loves spending time with his family. He enjoys teaching his students the wonderful things music can do and be. And, when inspiration strikes, he likes to compose music that makes him happy.
Sean Bresemann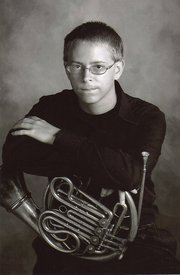 Sean Bresemann is currently pursuing a Bachelor of Music degree in horn performance at the University of Cincinnati College-Conservatory of Music. His primary horn instructors include William C. Robinson, Randy C. Gardner, Duane Dugger, Elizabeth Freimuth, and Donna Dolson. In addition to his studies on the horn, Sean also started composing, conducting, and teaching early in his music career. His first composition successes were in 2001 writing for the Seminole County PTSA Reflections Contest. A few years later he was the winner of the Orlando Philharmonic's Composer's Challenge in 2004 for his first orchestral composition. While studying at the University of Cincinnati, Sean has been active as a freelance musician in the greater Cincinnati and Orlando regions. In addition to composing and playing the horn, Sean has made his conducting debut conducting CCM's Esprit de Cor horn choir. He hopes to expand his talents in all areas of music and looks forward to writing many new works for Veritas. In addition to his passion for music, Sean also enjoys cooking with his father, loves cats, and is a lifelong Chicago Cubs fan.
Lowell Greer
Lowell Greer holds a unique place among the hornists of his generation. Known for his musicianship and versatility with or without valves, he has received critical acclaim and international recognition as an orchestral hornist, chamber musician, soloist, educator and horn maker.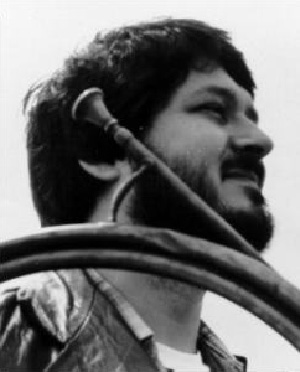 A Wisconsin native, Lowell began violin studies at age 4 and took up horn at age 12 due to a hand injury. His parents, both college professors, changed jobs several times, so Lowell had many horn teachers, the most notable being Ernani Angelucci of the Cleveland Orchestra. Lowell returned to Wisconsin to study with John Barrows at the University of Wisconsin and then pursued studies in Chicago with Helen Kotas, Frank Brouk, Dale Clevenger and Ethel Merker. While in Chicago, he freelanced extensively performing with the Chicago Civic Symphony, Lyric Opera of Chicago, American Ballet Theatre, Joffrey Ballet, shows, recordings and as extra horn with both the Chicago and Milwaukee Symphonies. Winning an audition, he joined the Detroit Symphony in 1972 as assistant principal. In 1978, he accepted the position of principal horn of the Mexico City Philharmonic and began to pursue his solo career. In 1980, Lowell moved to Europe to better pursue his natural horn interests, and performed in Belgium as guest principal horn of the Antwerp Philharmonic/Royal Flemish Orchestra. He returned to the US in 1984 where he served as principal horn of the Cincinnati Symphony until 1986. Mr. Greer also performed as principal of the Toledo Symphony from 1990-97. During this time, he somehow made room in his schedule to enter and win seven first prizes at six prestigious international horn competitions: Heldenleben, (1977), Gian Battista Viotti, Vercelli (1978), Hubertus Jaachthoornfestival (1979), SACEM, Paris (1981), Jacques-Francois Gallay (1981), and American (1983, 1984).
As a soloist, Mr. Greer has performed on natural and modern horn with some 50 orchestras in the US, Canada, Mexico and all across Europe not to mention his appearances at numerous chamber music venues. His extensive discography includes four CD's on Harmonium Mundi including the Mozart Horn Concertos and Quintet, Brahms Horn Trio and the Beethoven Sonata on natural horn and a recording for Decca L'oiseau Lyre of the entire music of Mozart for winds performed on original instruments.
A dedicated scholar and educator, Mr. Greer has taught at Wheaton College, Oakland University, Interlochen Arts Academy, The School for Perfection in Mexico City, The University of Cincinnati, The University of Michigan and currently at the Carl Neilsen Academy in Odense, Denmark. An acclaimed expert on natural horn performance, his research has led him to become a maker of fine reproductions of classic instruments and he has taught a course in natural horn building techniques at the William Cummings House since 1994.
Derek Jenkins
Derek M. Jenkins (b. 1986, Frankfurt am Main, Germany) is an American composer with a particular interest in music for wind ensemble and its various subsets. His music has been performed throughout the U.S., Europe and in Canada with select performances include those by the U.S. Army Materiel Command Band, the Florida State Wind Orchestra, the UMKC, Arizona State, Iowa State, and Bethel College Wind Ensembles, the Tri-State Wind Symphony, 5th House Ensemble, the Carinthia and Saxophilia Saxophone Quartets, mezzo-soprano Jennifer Beattie, and saxophonists Randall Hall, Gilbert Sabitzer, and Joseph Wytko. In 2012, Jenkins's wind ensemble piece "Eosphorus: The Morning Star" was selected as a winner of the NBA's Young Composer Mentor Project. Jenkins has received recognition from MACRO, ASCAP, the Harry S. Truman Good Neighbor Award Foundation, and at conferences and festivals across the U.S. and abroad. He has received commissions from the University of Tennessee-Martin Wind Ensemble, the Bethel College Wind Ensemble and Concert Choir, the Eleanor Roosevelt Middle School Concert Band [Dubuque, IA], and various individuals throughout the country. 
Jenkins holds degrees from Rice University (MM in Composition, 2012) and the University of Missouri-Kansas City (BM in Composition, BM in Theory, 2010). Additionally, he has received further instruction at the Kärntner Landeskonservatorium and the Alpen-Adria Universität Klagenfurt. His primary teachers have included Karim Al-Zand, Chen Yi, Pierre Jalbert, Richard Lavenda, James Mobberley, Paul Rudy, and Zhou Long. He has also had lessons with Kathryn Alexander, Mark Camphouse, Carter Pann, and David Rakowski.
In his spare time, Jenkins is an amateur scuba diver and daydreams of becoming an astronaut.
Christopher Kies
Christopher Kies is a professor of music at the University of New Hampshire in Durham, N.H., where he has taught piano, theory, and composition since 1979. His Bachelors degrees are in piano and composition from the New England Conservatory and his M.F.A. and Ph. D. in composition are from Brandeis University. Throughout the 1970's he was pianist and founding member of the Boston area new music ensemble, Collage. A Fulbright Fellowship recipient,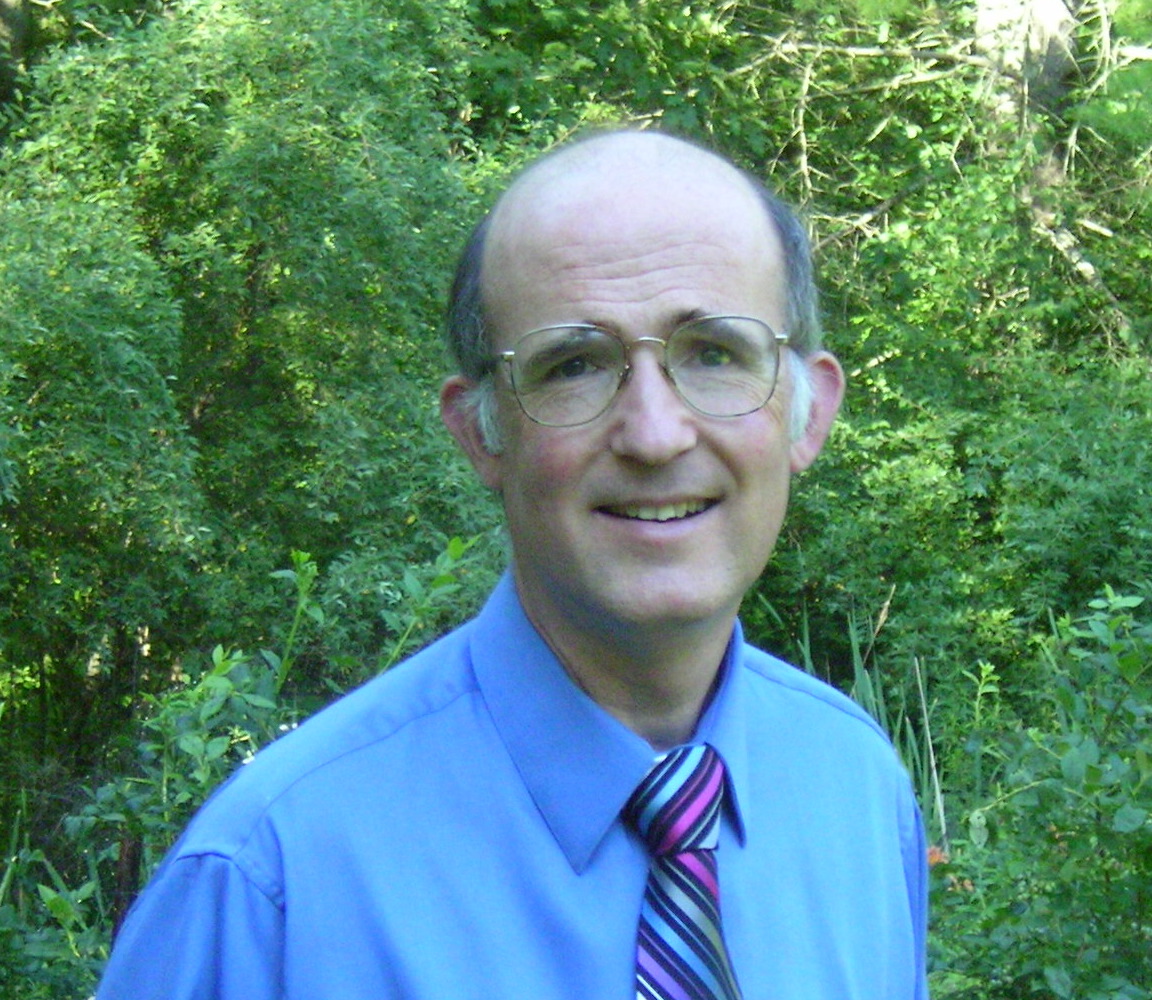 Dr. Kies has twice been awarded Individual Artist Fellowships from the New Hampshire State Council on the Arts, and he recently won first prize in the 2011 Longfellow Chorus International Composers Competition. Kies' compositions have been performed widely throughout New England and have been presented at International Double Reed Society Conferences (2003 and 2007) and at the 26th Annual New Music and Art Festival (2005) at Bowling Green State University.
His recent works feature the combination of music and narration for young audiences, including several versions of Little Red Riding Hood for various ensembles and narrator, The Amazing Bone (based on the story by William Steig) for trombone, piano and narrator, and a sequel to Le Carnaval des Animaux based on poems of Ogden Nash entitled "Le Tombeau de Saint-Saens" for orchestra (or brass quintet) and narrator. In 2006, his "Franklin Portrait" for orchestra, double chorus, and narrator was performed in observance of the Tercentenary of Ben Franklin's birth. Other compositions include three ballets, works for mixed, treble and children's chorus, music for solo piano, piano four-hands, and two pianos, and various pieces for mixed instrumental ensembles. Recordings of several of the above mentioned works are available on CD, and Kies' music is published by Veritas Musica Publishing.
Steven Landis (b.1977)
Steven earned both a BM in composition (1999) and an MM in double bass performance (2002) from the University of Florida School of Music. Steven studied composition with James Paul Sain, Paul Richards, Mark Engebretson and bass with Kevin Casseday.
Mr. Landis' aesthetic focus emphasizes fundamental nucleic relationships, juxtaposition, melodic duality, and rhythmic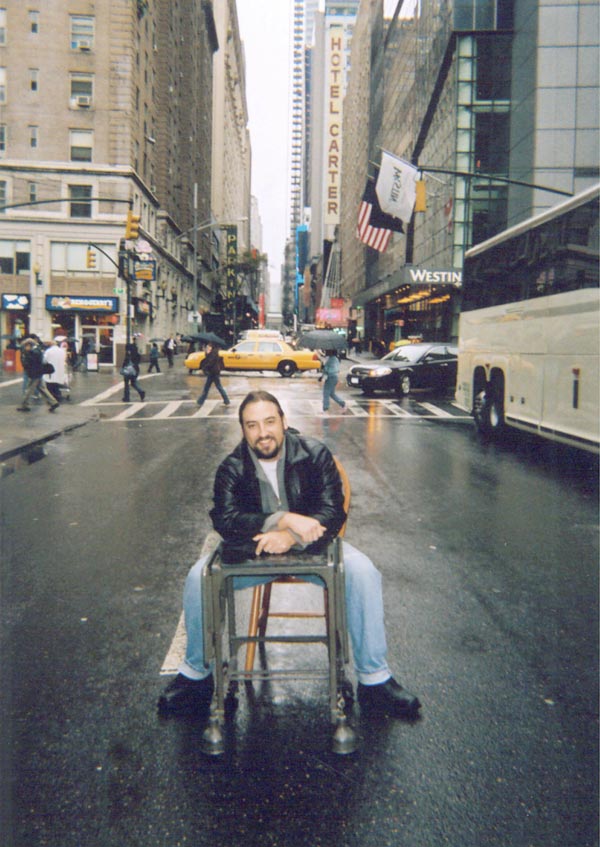 energy. His works are composed largely upon a germinal foundation, be it a rhythm, an intervallic relationship, a motif, etc. All other materials and compositional factors are developed from this embryonic idea, adhering to a minimal-material/maximum-development ethos. Through his compositions he seeks to create a subtle synthesis between the craftsmanship of western art traditions and aesthetics with the energetic spirit of non-mainstream popular culture.
Landis' musical pursuits are multifarious, the roots of which stem from an active performance career. As a double bassist he performs regularly in orchestral, solo and chamber settings. Landis is also active in many vernacular traditions including jazz, experimental metal, and rock. The components that greatly influence him in popular music – aggressive rhythm, texture, timbre, and the psychological aspect of listener perception and interpretation – are the aspects that inform his tastes in art music and that concern him as a composer.
Through extensive concertizing, tours and lecture-recitals, Mr. Landis maintains a focus of reaching public audiences with new concert experiences. Through continued scholarship he ferrets out seldom performed, unpublished, or unheard works from throughout history in conjunction with continual performances of new works in public settings. Within this framework he focuses his attention on youth education and underserved communities.
As a composer Landis works with many mediums including solo instrumental, chamber and large ensembles, digital and mixed media, as well as film and theater. Recordings of his work can be found on the film Blood of the Beast, released by Substream Films, the Gainesville Chamber Orchestra double-disc release Postcards, The University of Florida School of Music SCI CD Series, and in stage works by I Got Da Beat Productions.
Mr. Landis resides in Gainesville, Fl. where he is the Principal Bassist of the Gainesville Chamber Orchestra (www.gcomusic.org), the Albany Symphony Orchestra (www.albanysymphony.org), and a member of the poly-stylistic rock ensemble, Black Swan Theory.
When time allows Mr. Landis writes poetry (his efforts may be read in his self-published book, Gitmo Blues and Other Summer Poems), enjoys bass fishing, small batch bourbons, outdoors grilling with family and friends, and is an avid fan of GATOR football.
Rachael Hutchings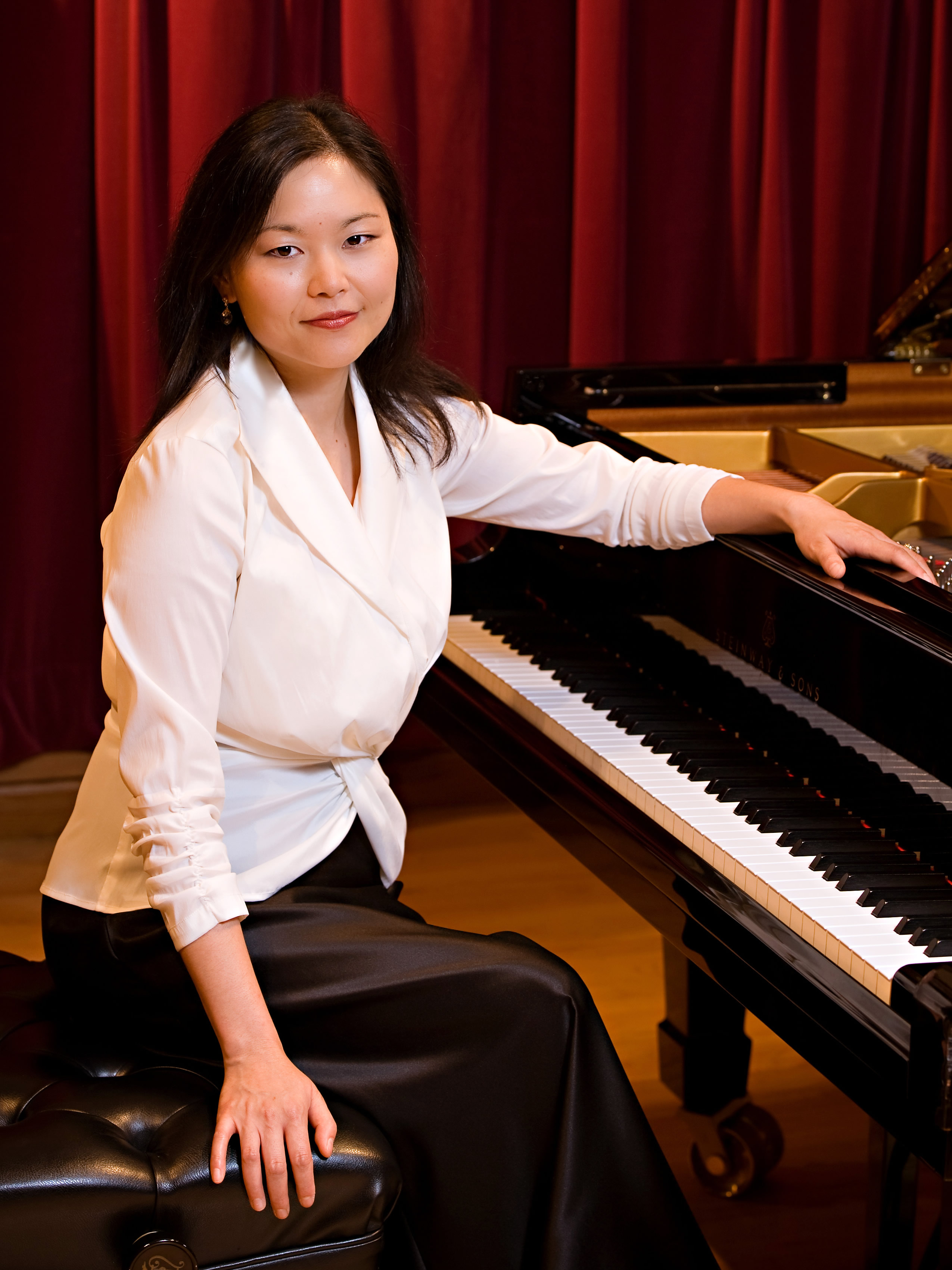 A recent arrival in Colorado, pianist Rachael Hutchings was an active performer and music teacher in San Francisco for thirteen years. Her recent performances include noontime concerts at the University of Denver Lamont School of Music, a joint recital with pianist Kristen Jürgens at Baker's Piano Center, and a benefit concert at the Living Way Fellowship in Highlands Ranch. Other past performances include faculty recitals at the University of San Francisco's Presentation Theater and the San Francisco Community Music Center, art song recitals with her husband, tenor Daniel Hutchings, a joint recital of solo and four hand works with pianist Jeffrey Swinkin, and performances with her brother, hornist and composer Wayne Lu. Ms. Hutchings has served as adjunct professor of piano at the University of San Francisco and as an instructor at the San Francisco Community Music Center. She also maintained a private studio in San Francisco, directed the piano program at the Lutheran School of Our Savior in Cupertino, California, and served on the board of the Music Teachers Association of California's San Francisco Branch. In 2011 she joined the University of Denver Lamont School of Music's Summer Academy as a piano instructor and accompanist. She is also active in the Denver and Boulder area as an adjudicator. Ms. Hutchings began studying piano in her hometown of Iowa City, Iowa under the instruction of Mary Beth Shaffer. She participated in music festivals such as the Boston University Tanglewood Institute, Rocky Ridge Music Center, and the Young Keyboard Artists Institute held in Oberlin, Ohio. She continued her studies at the University of Michigan School of Music with Arthur Greene and received a BMA in piano performance. She is currently working on a Master of Music degree in piano performance and composition at the University of Denver's Lamont School of Music. Her primary teachers are Alice Rybak and Chris Malloy and she serves as a Graduate Teaching Assistant in Piano. Recent compositions include settings of the poems of Hart Crane for tenor and piano, and Theme, Variations, and Fluctuations for solo piano. In addition to classical piano and composition, Hutchings is an avid choral singer, having sung with the San Francisco Bach Choir for ten years. She lives in Lakewood, Colorado with her husband, Dan, and their four-year-old son, Charlie.
Gabriel Monticello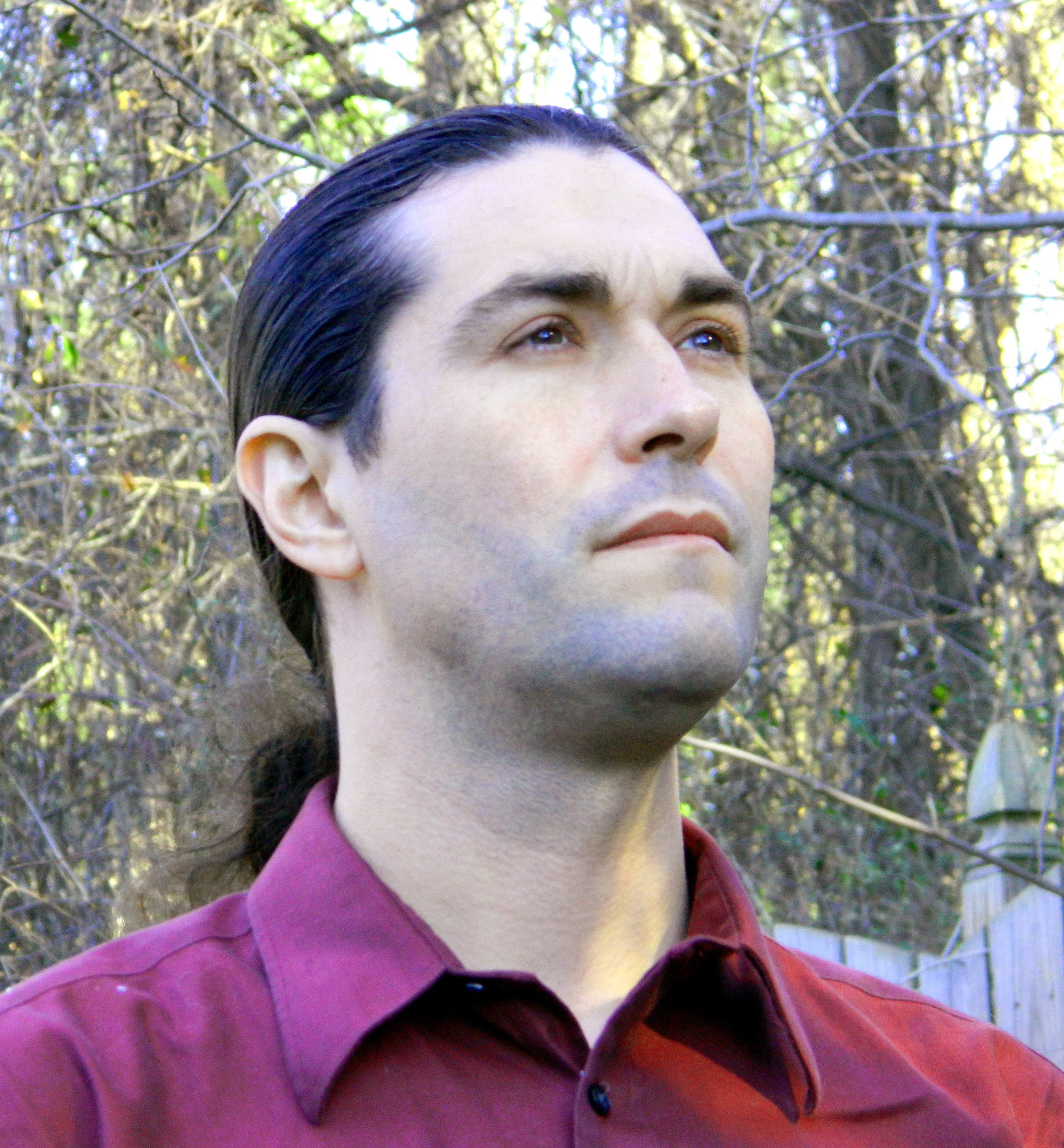 Gabriel Monticello began his music career playing bass guitar in hard rock bands. When he enrolled at Valdosta State University he took up the double bass and also studied composition under Mr. Ed Barr, Mr. Douglas Spaniol, and Dr. Tayloe Harding. Gabriel graduated with a Bachelors Degree in Bass Performance and went on to study bass and composition at the University of Florida where he received his Masters of Music and studied composition with Dr. Budd Udell and Dr. Paul Richards and electronic composition with Dr. James Sain. While at the University of Florida Gabriel served as president of the Society of Composers, Inc. and had numerous compositions performed and recorded.
Drew Phillips
Drew Phillips is a second year Master's student in Horn Performance at the University of Iowa.  He serves as Teaching Assistant of the Horn Studio to Mr. Jeff Agrell and teaches a studio of non-music majors, teaches beginning horn techniques to music education students and has conducted the University of Iowa horn choir.  He completed his undergraduate degree at the University of North Carolina-Greensboro with a Bachelor's in Instrumental Music Education while studying Horn with Dr. Abigail Pack, receiving his K-12 Music License.  Drew has performed with multiple orchestras throughout the Southern and Midwest states.  This past summer, Drew attended the Summer Brass Festival in San Francisco, CA as a Fellowship Recipient based on audition.  He performed and studied with top artists in the San Francisco Symphony and got to perform with the Grammy-nominated Bay Brass in a performance at Stanford University.  Drew also has extensive musical theater pit orchestra experience and has performed as principal horn in Aida, The Wizard of Oz, Les Misérables, Oklahoma!, Phantom of the Opera, and West Side Story.  Drew's passion is teaching, and he enjoys working with music students of all ages through various high schools and summer music camps in the South and Midwest.  In his spare time, Drew enjoys video games, eating junk food and generally being around any number of people
Gary Reeves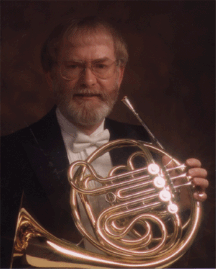 Gary L. Reeves is a native of Muscatine, in the southeast portion of Iowa. Gary has earned the Bachelor of Music Education degree from Augustana College in Rock Island, Illinois, the Master of Music degree from The University of South Dakota, and the Master of Fine Arts and Doctor of Musical Arts degrees in horn performance and pedagogy from The University of Iowa, where he was a student of Professor Emeritus Paul G. Anderson. Among professional memberships are included the International Horn Society (for which Gary serves as South Dakota Area Coordinator,) Pi Kappa Lambda Professional Music Fraternity, and Phi Beta Mu International School Bandmaster Fraternity. He has taught instrumental music in Aurelia, Iowa, at Oregon State University, and at Southern Utah University, among other institutions.
Dr. Reeves now is an Associate Professor of Music at The University of South Dakota where he teaches applied horn, conducts the Concert Band, and works with other instrumental ensembles. Gary also teaches classes in the area of music education including Brass Methods, Introduction to Electronic Music, Marching Band Techniques, and Instrumental Conducting. Gary is a frequent guest conductor and teacher for music camps and festivals throughout the country, having worked in Alabama, Colorado, Iowa, Michigan, Nebraska, Oregon, Utah, and South Dakota. He is the Principal Horn for the Northwest Iowa Symphony Orchestra, the South Dakota (USD Faculty) Brass Quintet, and is a horn soloist both on the modern instrument and on the natural horn, performing with the Dakota Baroque and Classical Company. Dr. Reeves has performed in orchestras and for several festivals including the Wildacres Chamber Music Festival in North Carolina, the Oregon Mozart Players, and as Principal Horn for the Superior Music Festival Orchestra in Marquette, Michigan. He also has performed in orchestras for such professional entertainers as Chet Atkins, Kurt Bestor, Blood, Sweat, and Tears, Glen Campbell, John Davidson, Arlo Guthrie, Cleo Laine, The Lettermen, Mannheim Steamroller, Mitch Miller, the Moody Blues, Dionne Warwick, Andy Williams, and the cast of "Sesame Street." He is married to Dr. Deborah Check Reeves, clarinetist and Curator of Education at the National Music Museum. Their outside interests include bicycling, automobile restoration, spectator sports, and two Brittany Spaniels, Munson and Baby.
Alan Schmitz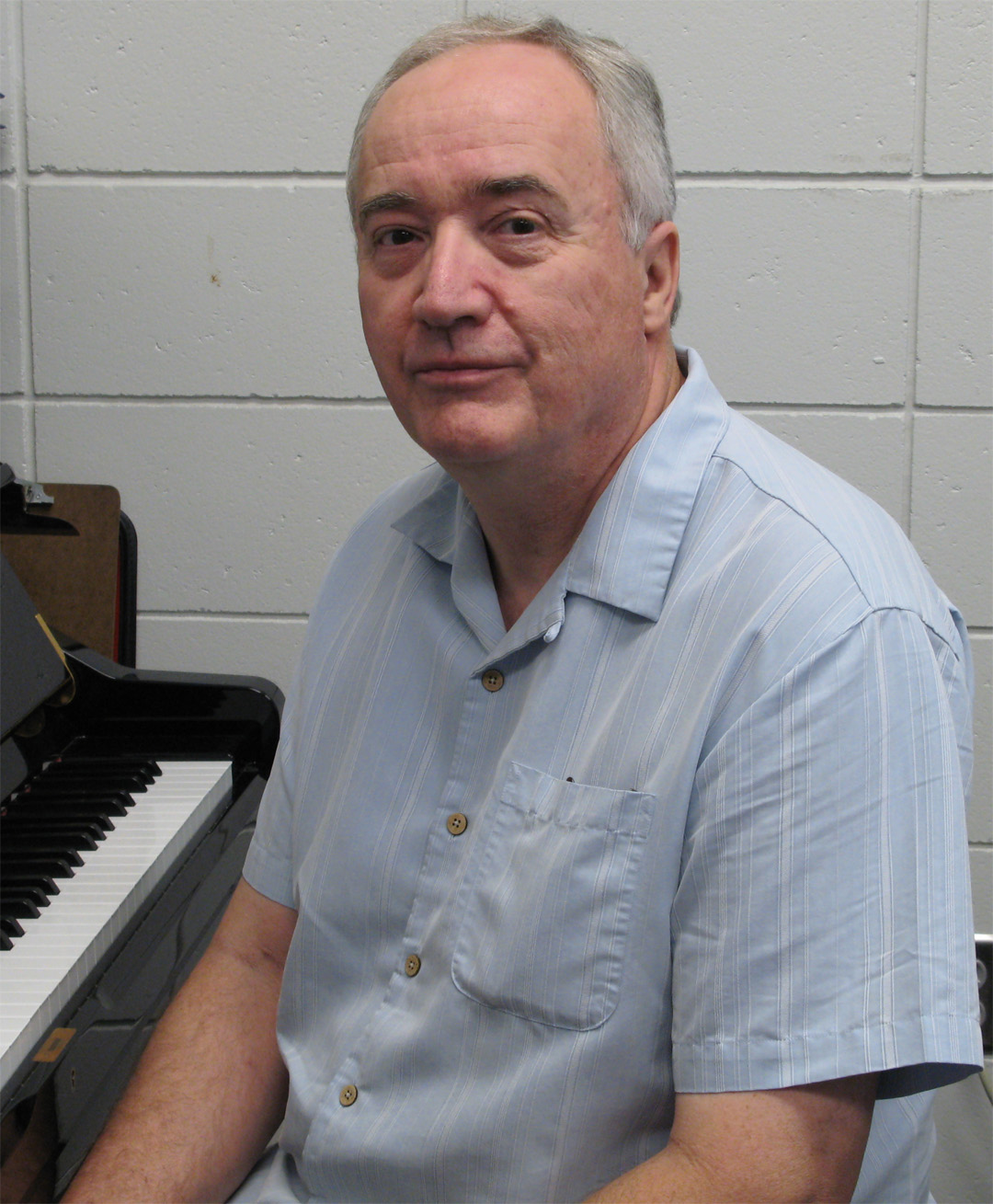 Alan Schmitz (born 1950, USA) is Professor of Theory and Composition and Associate Director of the School of Music (Undergraduate Programs) at the University of Northern Iowa. He received bachelor and master of music degrees from the University of New Mexico and the Ph.D. in music theory and composition from Rutgers University. Schmitz's music is widely performed in the United States and has also been presented in Western Europe, Romania, and Russia. He has received awards, commissions, and grants for composition from several agencies including the Alaska Council of the Arts, the Iowa Arts Council, the Waterloo/Cedar Falls (Iowa) Symphony Orchestra, the University of Northern Iowa, and the Lila Wallace/Readers Digest Foundation. Schmitz has also published articles on composing for guitar. A CD of chamber music by Alan Schmitz, entitled 90s Timeflow, was released by Capstone Records in 2001. Another Capstone CD, Lyric Images, guitar music of Alan Schmitz performed by Todd Seeley, was released in 2003. Both of these recordings have just been re-released (spring 2012) by PARMA Recordings on the Ravello Label and are being included on Naxos as well. Schmitz composed a chamber opera based on Sergei Turgenev's short story The Song of Triumphant Love, which was performed at the University of Northern Iowa in 2008. Schmitz recently completed a composition for solo organ entitled Dodecaccata and a composition for viola and guitar: Tango Fantasy.
Tina Su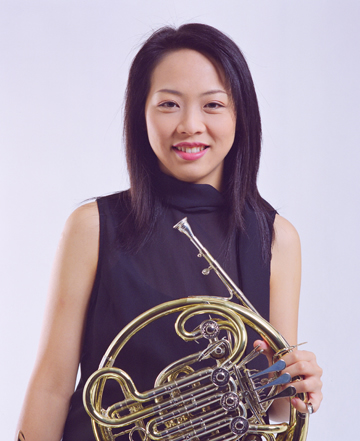 Dr. Yu-Ting (Tina) Su was appointed Assistant Professor of Horn at the University of Northern Iowa in 2006. Prior to accepting her current position at UNI, she served as the third horn of the Taipei Symphony Orchestra from 2000-2006, and has toured with the group to Spain and Austria. Other engagements in Taiwan have included concerts and tours with the Taipei Philharmonic Orchestra to Russia and the United States, concerts with the Festival Orchestra in Taiwan with soloists Plácido Domingo, Barry Douglas, Lynn Harrell, Cho-Liang Lin and Gil Shaham. Dr. Su has performed under the batons of Kurt Mazur, Otto-Werner Mueller, Leonard Slatkin, David Zinman, Yuri Termirkanov, and Jahja Ling and among others. She was featured on PBS Special "Backstage of Lincoln Center" as principal horn of The Juilliard Orchestra. Recent Iowa orchestral appearances have included performances with Cedar Rapids Symphony Orchestra and Waterloo-Cedar Falls Symphony Orchestra.A native of Taiwan, Dr. Su made her debut as a soloist with the HSNU High School Chamber Orchestra at age of 15. She has appeared as a soloist with the Taipei Symphony Orchestra, the Pro Arte Orchestra, and Taipei Philharmonic Orchestra. Highlights of recent seasons included concerto performances with UNI Chamber Orchestra, UNI Concert Band, and Marshalltown High School Wind Ensemble. As a soloist, Dr. Su was featured on several concert series in Taiwan. On her first faculty recital at UNI, she performed a program of transcriptions of strings works, two of them were her own transcriptions: Paganini's Variations on a theme from "Moses" by Rossini and Schumann's Violin Sonata no. 1. Dr. Su is also an active performer of contemporary music. In 2001, she was engaged by Verne Reynolds to premiere his new composition, Sonata Concertatne and she was then engaged by the Contemporary Music Society in Taiwan to perform Ling-Hui Tsai's Sonata in 2005. Besides orchestral performances and solo recitals, Dr. Su is also an active chamber musician. She founded the horn quartet, Wonder Horns, with colleagues from the Taipei Symphony Orchestra. The group has won the Bach Rising Stars Series and gave its debut recital in the Bach Recital Hall in Taipei in the 2004. Wonder Horns subsequently was invited to perform Schumann's Konzertstück for Four Horns, op. 86 with the Taipei Symphony Orchestra in 2004. She is also the founding member of Ars Nova woodwind quintet, which won the NTSO Chamber Music Competition in 2005. She has performed at the Norfolk Chamber Music Festival with Miró String Quartet, and the Taiwan Connection Music Festival with Violinist Nai-Yuan Hu. Dr. Su joined the Northwind Quintet in 2006, and has performed recitals at UNI, Wartburg College and was featured on Fairfield Chamber Music Society series in April 2008. In 2007, She performed with the Northern Brass Quintet and also performed Miles Davis' Birth of Cool with UNI's Jazz faculty ensemble. From 2000-2006, Dr. Su was a faculty member at Tung Hai University, National Taichung Teacher's College, and the National Tainan College of Arts in Taiwan. She has given master classes and clinics in California, Iowa, Mississippi, and Taiwan. Dr. Su received her Bachelor of Music degree and a Performer's Certificate from the Eastman School of Music, her Master of Music degree from the Juilliard School, and her Doctoral of Musical Arts degree from the State University of New York at Stony Brook. Her principal teachers have included Si-Yuan Zuang, Verne Reynolds, Peter Kurau, and William Purvis, and she has studied chamber music with the New York Woodwind Quintet and the American Brass Quintet.
Michael Wall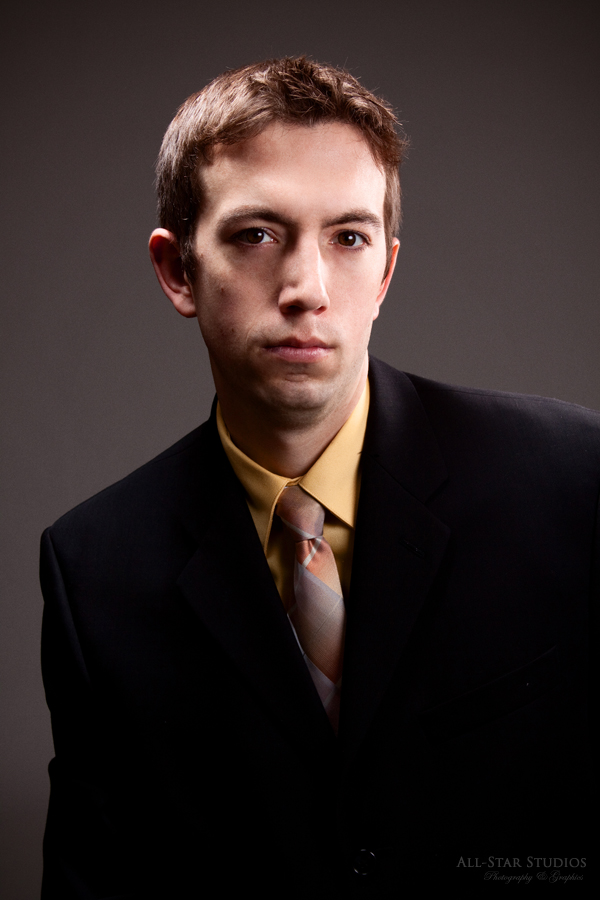 A jack-of-all trades musician, Michael Anthony Wall has found success as a hornist, composer, arranger, editor and educator. He holds a Master of Arts in horn performance from the University of Iowa as well as a Bachelor of Music from the University of Wisconsin – Stevens Point. Michael has studied horn with Jeffrey Agrell and Patrick Miles as well as composition with Charles Rochester Young. In addition to being a founding member of Water's Edge Brass, he has performed with numerous orchestras in Wisconsin and Iowa and took second place in the 2006 Midwest Horn Workshop natural horn competition. He has won awards for his wind band and orchestral compositions and is currently published with Veritas Musica. An active proponent of creative musicianship in music education, Michael has been a contributor to The Horn Call on the topic of improvisation and remains active as a clinician on the topics of improvisation and composition. He currently resides in Manitowoc, WI where he maintains a private horn studio. In his free moments, he enjoys spending time with his wife Molly and sons Benjamin and AJ.
Scott Young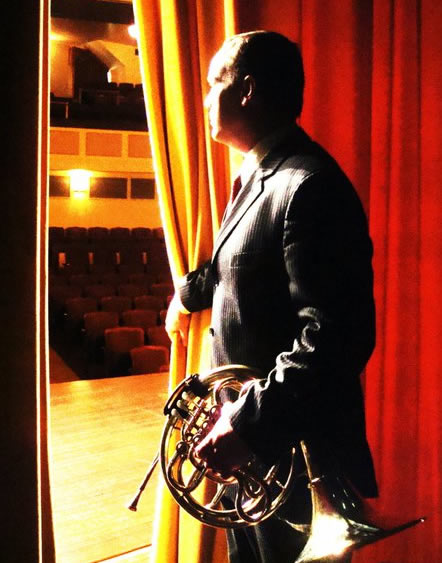 Scott Young (b.1970) is the Fine Arts Department head and Director of bands at the Deerfield-Windsor School in Albany, Georgia, Instructor of horn at Darton College and second horn in the Albany Symphony Orchestra and the Mercer Chamber Orchestra. He has a Bachelor's of Music Performance (chamber music emphasis) from Clayton College and State University and a Masters of Music Education from Valdosta State University. His compositions have been performed at many Southwest Georgia churches, the Albany (GA) Symphony Orchestra and at the Kendall Betts Horn Camp. Mr. Young has been a member of the Albany and Valdosta symphonies and principal horn of the U.S. Marine Band, Albany, the Band of America's Few, and the Continental Orchestra in Denver, Colorado. His primary horn teachers include Dr. Michael Harcrow, Mr. L. Ron Lemon, Mr. David Brussel, Dr. Kristen M. Johns and Dr. William Capps. He studied composition with Ed Barr. Mr. Young was the 2008 STAR Teacher for his school, the county and Region IX. He is a member of National Association for Music Educators (formerly MENC), the International Horn Society, and ASCAP, where he was listed in the 2008 Adventurous Programing Awards right next to Frank Zappa.