Our Executive Officers
Wayne Lu, President
Wayne Lu started playing the horn at the age of 10. By age 17, he had won his first concerto competition with the Iowa City Youth Orchestra. Wayne's orchestral experience includes numerous performances throughout the Midwest with the Champaign-Urbana Symphony, Knox-Galesburg Symphony, Decatur Symphony, Danville Symphony, and Prairie Ensemble. Wayne's past horn teachers include A. Kendall Betts, Kazimierz Machala, Virginia Thompson, John Cerminaro, and Paul Anderson. His composition teachers include Herbert Brun and Alex Lubet. Wayne also studied conducting with Akira Mori.

As a composer, Wayne has written for full orchestra, brass choir, woodwind quintet, horn choir, horn sextet, horn quartet, horn trio, horn and saxophone, horn and flute, horn and piano, unaccompanied horn, unaccompanied saxophone, alto saxophone and piano, unaccompanied trumpet, trumpet and piano, solo harp, and mixed winds. Some recent premieres include In Memory of (to honor the life of Molly Naugle) by members of the Minnesota Orchestra Brass and Percussion, Sonata for Alto Saxophone and Piano by Paul Tucker, U.S. Army Ceremonial Band Alto Saxophone, at the North American Saxophone Alliance conference at the University of Georgia, The Heartland for woodwind quintet premiered by the Air Force Band WWQ at Fort Washington, MD, and Sonata for Solo Harp premiered by Courtney Hershey Bress, Colorado Symphony, Principal Harp in Lakewood, CO. Wayne released his debut composition CD, Legacy: Compositions by Wayne Lu in May 2011 through Veritas Musica Publishing, a company that he founded and has served as President for since 2009.
Wayne has two solo horn CDs to his credit. The second one, On the River, was released October 2002. As a conductor, he also has the debut recording of the University of Minnesota Horn Choir to his credit released in November 2002. Wayne has worked as Staff/Substitute Faculty at the prestigious Kendall Betts Horn Camp in Littleton, New Hampshire since June 2006.
As a conductor, Wayne led the University of Illinois Horn Choir from 1997-1999 with performances throughout the Midwest including a performance at the Midwest Regional Horn Workshop in Edwardsville, Illinois in 1998. He was also the conductor of the University of Minnesota Horn Choir for four years, a group he formed in 2000. Wayne is also the organizer, conductor, and performer in the Iowa City Horn Choir Festival, a unique horn choir festival that he started in 1999. Wayne has also worked as conductor of the Golden Valley Orchestra, Lake Waconia Wind Ensemble, and Twin Cities Horn Club.

Academically, Wayne has a Bachelor's of Music in Horn Performance from the University of Illinois and a Master's in Music in Horn Performance from the University of Minnesota. Wayne is currently a DMA student at University of Illinois having finished all of the coursework and comprehensive exams.

For five years, Wayne worked as the Admissions Coordinator and Horn Instructor at the University of Minnesota – Twin Cities School of Music. Currently, Wayne is the Instrumental Music Director at the Eldora-New Providence School District in central Iowa where he teaches 5th grade band, high school jazz band, marching band, pep band, and concert band. Outside of music, Wayne is also a short story writer, avid racquetball, basketball, and tennis player, and fisherman. Wayne is married to Jenny Lu, the ENP School Nurse, and is father to Brock Tucker Lu (8 ½), Braxton Tate Lu (4), and Bella (2).

Kurt Gorman, Vice

President

Trumpeter Kurt Gorman, D.M.A., is an active performer, teacher and scholar. Gorman holds the rank of Associate Professor of Music at the University of Tennessee at Martin, where he teaches studio trumpet and jazz. Prior to his current appointment, Gorman performed as Principal Trumpet of Orquesta Sinaloa de las Artes in Culiacan, Mexico. Currently, Gorman is a regular member of the Jackson Symphony and a founding member of Bravada, a faculty chamber ensemble at the University of Tennessee at Martin.

Gorman's creative activities have also included two recent commissions. In September of 2008, he premiered the Sonata for Trumpet and Piano, Op. 45, by Easley Blackwood with the composer at the keyboard. Blackwood's excellent composition received a repeat performance at the 2009 International Trumpet Guild Conference. The work was funded by Tennessee Arts Commission and the Chicago Classical Recording Foundation. Gorman also commissioned the Sonata for Trumpet and Piano (2008) by Wayne Lu, composer, hornist and long time friend. This challenging and intriguing work was written for and dedicated to Gorman and will be premiered in the coming months.

Gorman's primary academic interest is chamber music. His doctoral dissertation, The Trumpet in Mixed Chamber Music of the Twentieth Century, is audacious and definitive.

Gorman holds a Bachelor of Arts in music from the University of Chicago, a Master of Music in trumpet performance from the University of North Texas and his Doctor of Musical Arts from the University of Missouri-Kansas City Conservatory of Music. He has studied privately with Keith Johnson, Keith Benjamin, Jeff Curnow, John Holt, and Guy Victor Bordo.

As an editor at Veritas Musica, Gorman has worked to edit and reproduce the scores of Wayne Lu.
JG Miller, Vice President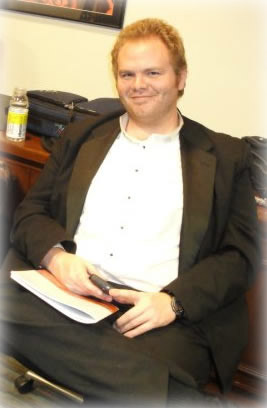 J. G. Miller, a Colorado native, is a graduate of the Eastman School of Music with both academic Distinction and Performer's Certificate honors in both Music Performance and Music Education. He completed a Master of Music degree under the tutelage of Daniel Katzen, and then moved to the Los Angeles area to pursue freelance work and a Doctoral of Musical Arts degree from the University of Southern California with recording artist James Thatcher. His concentrations at USC include Performance, Education, Music Industry and Recording, and Collegiate Pedagogy-Administration.
He has performed with the Rochester Philharmonic Orchestra, Rochester Chamber Orchestra, Flagstaff Symphony Orchestra, Tucson Symphony Orchestra, Tucson Chamber Orchestra, Cornell Chamber Music Society, the Center for 21st Century Music, and numerous Los Angeles regional orchestras and recordings. He can be heard on Ensemble Musica Nova's Latin Grammy® Nominated recording of Barcelonazo by Jorge Liderman, released in 2008 by Bridge Records. He has also been a two-time finalist at the Coleman Chamber Music Competition with the AZG Winds and the Los Angeles Horn Quartet "Connsmen," the first horn quartet in 56 year history of the Coleman competition.
Moreover, Miller has had solo opportunities performing at the 36th International Horn Symposium in Valencia, Spain in the European premiere of "Remembering 9/11" by Steven Morrell, as well as winners of the Eastman Concerto Competition performing Schumann's Konzerstücke for 4 Horns with the ensemble Quattro'Hornis. In 2008, he narrated a lecture-performance on the closing concert of the 40th International Horn Symposium in Denver, Colorado. In 2009, Miller's performance of the Quoniam from Bach's B-Minor Mass garnered praise from conductor Helmuth Rilling, saying Miller is "an exceptional rising talent in the music world."
Miller has a fond interest in the acoustics and the design of horns, spending the previous two summers working as an apprentice for Lawson Horns. He attended the 42nd Annual Symposium in Brisbane, Australia, representing Lawson Horns.
Recognized by the city of Tucson and the University of Arizona for his unique approach to music education, Miller's presentation "Homage a M. de Falla: Performers Connecting With Their Audiences" won him with the University President's Award for Community Outreach in 2007. He also was awarded the 2011 Brandon P. Merhle Award for Distinguished Service at the University of Southern California.

An advocate for unaccompanied horn and horn ensemble music, Miller's challenging arrangements and compositions have been performed both in the US and Europe, and have been met with praise by horn virtuosi Hermann Baumann, Radovan Vlatkovic, and the American Horn Quartet. He enjoys additional work as a professional copyist, and serves as Vice President of Veritas Musica Publishing (ASCAP), founded by American composer Wayne Lu.
His influential horn teachers include Peter Kurau, Daniel Katzen, Kendall Betts, James Thatcher, and Erwin Chandler. Kendall Betts also served as his mentor while apprenticing at Lawson Horns.
Outside of music, Miller is fond of enjoying a game of paintball, swimming, racquetball, web design, and repairing cars.